Evans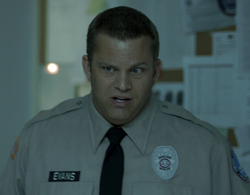 Character Profile
Portrayed By
Jason Benjamin
Season(s)
1
First Appearance
Pilot
Last Appearance
Pilot
Appears in
1
Character
Status
Alive



Characteristics
Age
30's to 40's
Gender
Male
Eyes
Blonde
Hair
Blue
Personal Status
Professional Status
Profession
Security Guard
Evans is a security guard working at the Virginia Central Penitentiary that housed Joe Carroll. He was on shift the night Carroll originally escaped, walking alongside Williams throughout the facility. He spotted Carroll, disguised as Pete Davis and bid him goodnight before heading towards the security office. It's here where he discovered the bodies of five guards, including Nickels and had Williams sound the alarm calling for assistance. By this time, Joe had already escaped in Pete's jeep and drove away calmly as the prison went into full alert.
Evans is credited as "Guard #1", with his name being revealed by his nametag.
Ad blocker interference detected!
Wikia is a free-to-use site that makes money from advertising. We have a modified experience for viewers using ad blockers

Wikia is not accessible if you've made further modifications. Remove the custom ad blocker rule(s) and the page will load as expected.