Gisele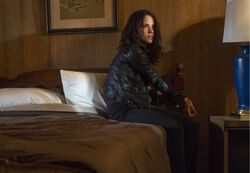 Character Profile
Portrayed By
Camille De Pazzis
First Appearance
Resurrection
Last Appearance
Fly Away (Body only)
Appears in
6 Episodes
Character
Full Name
Gisele
Aliases
None
Nicknames
N/A
Status
Deceased
Manner of Death
Killed By Ryan Hardy
Characteristics
Age
20's
Birthday
N/A
Gender
Female
Eyes
Brown
Hair
Black
Personal Status
Marital Status
N/A
Spouse
N/A
Professional Status
Profession
Serial Killer
Gisele was a follower of Lily Gray's family and helps Mark Gray, Luke Gray and Carlos Perez.
Gisele had shown to be experienced in Hand to Hand Combat, having taken down Max using only a few techniques, and nearly beating Ryan Hardy in the train station.
She has demonstrated she is educated in manipulation strategies, such as appearing to FBI agents to not being able to speak or understand English, which was confronted and shut down by Ryan Hardy. Also was her display by the railroad tracks which, after being punched by Ryan, made watchers believe she was being attacked. Because of this, civilans grabbed and held him down, while Gisele entered the departing train. By the time Hardy broke free, the vehicle was already gone.
Gisele was interrogated by Ryan and Max Hardy for information relating to Lily Gray's location, and was nearly strangeled to death at the scene by Ryan due to her spitting in his face.
After this, Gisele gave vital information which allowed for the FBI to expose Lily Gray and her family, also putting them on the run.
She was murdered by Ryan Hardy at a later time.
Ad blocker interference detected!
Wikia is a free-to-use site that makes money from advertising. We have a modified experience for viewers using ad blockers

Wikia is not accessible if you've made further modifications. Remove the custom ad blocker rule(s) and the page will load as expected.