Mallory Hodge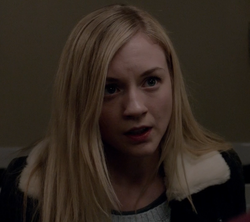 Character Profile
Portrayed By
Emily Kinney
Season(s)
2
First Appearance
Teacher's Pet
Last Appearance
Teacher's Pet
Appears in
1 episode
Character
Full Name
Mallory Hodge



Status
Deceased
Manner of Death
Neck slashed by Patrick
Characteristics
Age
20's
Gender
Female
Eyes
Blue
Hair
Blonde
Personal Status
Mallory Hodge was a Follower in The Following. Formerly the girlfriend of Lance Tierney, she joined Joe Carroll's movement as part of the Korban Cult. She is one of several New Followers, along with Tilda, Lucas and Patrick.
Biography
Edit
In 2012, she went "off the grid" with her boyfriend Lance. Prior to her disappearance, she was said to be inseparable from Lance (according to her parents) and lost her job at a Brooklyn Restaurant due to missing her shifts sneaking off with him.
She found her way with Lance to the Korban Community, where she and various other psychopaths were locked away by Julia to insure they didn't mix with the rest of the community.
Following Joe's murder of Micah and Julia, he assumed leadership of the cult and created a new group of followers. Mallory was one of the new recruits, trusted to Joe by Robert. He led them into New York where first Tilda and Lucas claimed 4 victims, then Mallory and Patrick went on their own assignment.
Each follower was given a choice of their victims, with Mallory being the third to make a choice of where to do the killing. She chose the previous restaurant she worked at and went in with Patrick, sitting at the bar until she spotted a woman she intended to kill. Leaving Patrick at the bar, she followed the woman into the bathroom where she brandished a knife after struggling to get herself to pull it. The woman fought her off and ran, being caught by Patrick in the restaurant and held hostage while the police (led by Ryan Hardy) had him in their sights.
Mallory walked out, knife still in hand...given the option by Ryan to put an end to this and leave the cult returning to her parents that missed her. Mallory, despite Patrick's insistence, dropped her knife and intended to join Ryan but he threw the hostage down and slit Mallory's neck before being shot to death by the Mike Weston. Mallory bled out as Ryan tried to stop the bleeding, dying in his arms.
She was extremely devoted to her boyfriend, Lance Tierney. She was willing to join Joe's movement as a killer and almost stabbed a woman due to this devotion, but ultimately chose an option to return to her parents instead (though she was killed by Patrick before making that a reality).
Ad blocker interference detected!
Wikia is a free-to-use site that makes money from advertising. We have a modified experience for viewers using ad blockers

Wikia is not accessible if you've made further modifications. Remove the custom ad blocker rule(s) and the page will load as expected.