Richard Weston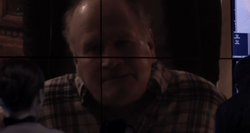 Character Profile
Portrayed By
John Lenartz
Season(s)
2
First Appearance
Sacrifice
Last Appearance
Sacrifice
Appears in
1
Character
Full Name
Richard Weston



Status
Deceased
Manner of Death
Neck slashed by Mark Gray
Characteristics
Age
60's
Gender
Male
Hair
White
Personal Status
Marital Status
N/A
Immediate Relatives
Mike Weston (son)
Three unnamed sons
Address
344 Cherokee Lane
Hampton, VA
Richard Weston[1] was the father of Mike Weston, as well as three more sons. In Sacrifice, following the apparent "death" of Luke Gray, Lily Gray was bent on revenge and targeted those involved in the incident. She originally had Kurt Bolin kidnap Max Hardy in order to be killed (however she was rescued) and her next phase of attack was to target Mike's father in Virginia.
She recorded a video where she and her son Mark Gray had tied up Richard in his home. As punishment for what happened to Luke, she allowed Mark to kill Richard after he told her to "go to hell" by cutting his throat and letting him bleed out.
In The Messenger, an honorary funeral is given for Richard where Mike and his three brothers attend while the flag is handed to what appears to be Richard's wife. He was surrounded by military veterans in full attire, presented with a 7-volley salute by the honor guard. Director Tom Franklin attends the wake as well, greeting the grieving Weston sons.
References
Edit
Ad blocker interference detected!
Wikia is a free-to-use site that makes money from advertising. We have a modified experience for viewers using ad blockers

Wikia is not accessible if you've made further modifications. Remove the custom ad blocker rule(s) and the page will load as expected.