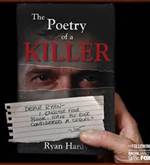 The Poetry of a Killer
is a true crime book written by
Ryan Hardy
about the case around
Joe Carroll
and his first killing spree at
Winslow University
.
Ryan was advised against writing it by his partner Tyson, but Tyson changed his opinion after Ryan said he was writing it in order to make himself feel beter.
It was never stated how popular the book was, but it is implied to have done much better than Joe's novel The Gothic Sea, given the fact it has yet to have been stated to have been bad by readers.
Joe left Ryan a note inside a copy of Ryan's book he acquired while in prison, saying that he enjoyed it and wondered if Ryan ever considered a sequel.
Ad blocker interference detected!
Wikia is a free-to-use site that makes money from advertising. We have a modified experience for viewers using ad blockers

Wikia is not accessible if you've made further modifications. Remove the custom ad blocker rule(s) and the page will load as expected.