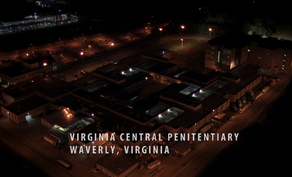 Virginia Central Penitentiary is a prison facility in Waverly, Virginia. This is the prison where Joe Carroll was kept after his capture in 2004. It is here where he met with a majority of his followers and would later stage an escape murdering five prison guards in the process. Prior to his escape, he was scheduled to be executed within a month.
Joe Carroll was captured by Ryan Hardy and sentenced for the deaths of 14 women. He was scheduled an execution for 2013, 9 years after his crimes.
Joe's prison cell (at the time of his first escape) was 1U816.
He kept a collection of books in his cell written by Edgar Allen Poe (Complete Tales and Poems), William Faulkner (The Faulkner Reader), Nathaniel Hawthorne (Tales and Sketches), Percy Bysshe Shelley (Poetry and Prose) and George Gordon Lord Byron (The Major Works). In addition, he also had a copy of Ryan Hardy's The Poetry of a Killer.
Ad blocker interference detected!
Wikia is a free-to-use site that makes money from advertising. We have a modified experience for viewers using ad blockers

Wikia is not accessible if you've made further modifications. Remove the custom ad blocker rule(s) and the page will load as expected.